22/10/09:
I sat observing my little Blue Tit, who'd flown in, and come to feed, I assumed. After landing in the Fennel, from where it usually will start feeding in the Fennel planter which is their birdtable. It had different ideas, however. Most of the birds in my garden will feed on Insects on the stalks of the Fennel (and also inside) and many will pick out Insects on the wood of either the planter itself or on the wooden shelving, beyond.
Birds like Wrens will always go underneath the shelf, to feed on the life on the wooden supports, where it can feed unnoticed and in peace.
The Blue Tit was looking deeper than most Birds would. The bird started to confuse, when I spotted these bits of shelf in its beak! OK, I know birds need minerals and also grit, so their stomachs can digest their food. Bt shreds of wood?
At the end of the day, we thought that was that. But it wasn't, was it?
As a great surprise, the same Blue Tit, again landed on the shelf,
And guess what?
Yep!She was back hanging on the shelf again, as the day before!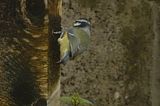 Elsewhere in the garden:
Great Tit,
Parus major,
feeding on Insects/Invertebrates, found among the roots of the Fennel, in the planter.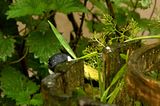 This assured looking female House Sparrow,
Passer domesticus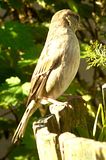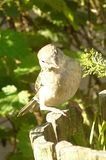 Female Chaffinch,
Fringilla coelebs: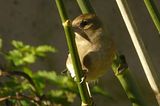 Any explanation towards this behaviour of my Blue Tit, would be very welcome. Please leave a comment or drop an email to birdingonwheels@gmail.com